10 Things to Look for in Your Virtual & Hybrid Event Tech Partner in 2022
The COVID era prompted an industry-wide pivot to virtual and hybrid events. Now, virtual and hybrid are here to stay — and that's a great thing. For attendees, these events offer expanded access to events anywhere in the world, with more opportunities for networking and learning. For planners, it means much bigger audiences, increased revenue and growth.
Now, however, many planners find themselves looking for partners who will deliver the technology that can meet their expectations. The success of your virtual or hybrid event comes down to whether or not your technology can provide a seamless and connective experience.
It's important to choose a technology partner who can prove their core business is the planning and delivery of interactive and engaging online events. It's easy to fall into the trap of choosing a platform that looks pretty but is a pig to use. It's also easy to get seduced by clever sales people working for professional conference organisers who told us all 3 years ago that online events bastardised attendance. Given their lack of understanding of the opportunities online events bring to planners, attendees and sponsors, how can you trust what they're telling you now?
Here are the 10 things you need to look for in a technology partner to deliver a best-in-class hybrid and virtual event in 2022.
1. Networking capabilities
Will your in-person attendees be able to network with virtual attendees on the platform before the event? Will in-person and virtual attendees be able to connect in meaningful ways? Your tech partner should have quick answers to these types of questions. Eventsforce, for example, has networking tools that make connecting easy utilizing an AI algorithm that matches attendees based on their titles, affiliations, and other information with other like-minded attendees. You can also create virtual networking rooms, or spaces where guests can mingle and chat. Networking is always a priority, whether you're in-person, hybrid or virtual, so make sure you have the technology to support it.
2. Engagement capabilities
Virtual and hybrid events offer amazing opportunities to engage attendees. Look to see if your provider supports ways to engage virtual attendees in real time, like live chat, polls, and surveys. They should also be able to seamlessly integrate social media into the experience for ALL attendees — on the virtual platform, in the event app, as well as the physical event space. Does the partner support gamification and the ability to deliver swag virtually? Mediasite's hybrid technology platform can host a virtual store, with some items able to be delivered electronically (i.e., gift cards), with some requiring actual delivery services (i.e., t-shirts). Engagement will be a major KPI for you when it's all said and done, so make sure your technology allows you to maximize your efforts.
3. Check to see if they have a track record of success with hybrid events
A lot of providers are rushing new products to market, and they haven't learned enough about hybrid and virtual. Have they actually supported an event like yours?
Look for case studies. How have they solved problems for planners like you? For example, GigTV has concrete examples to point to, like our event with MTAA – Medtech 2021 or the 36th Australia Papua New Guinea Business Council Trade Expo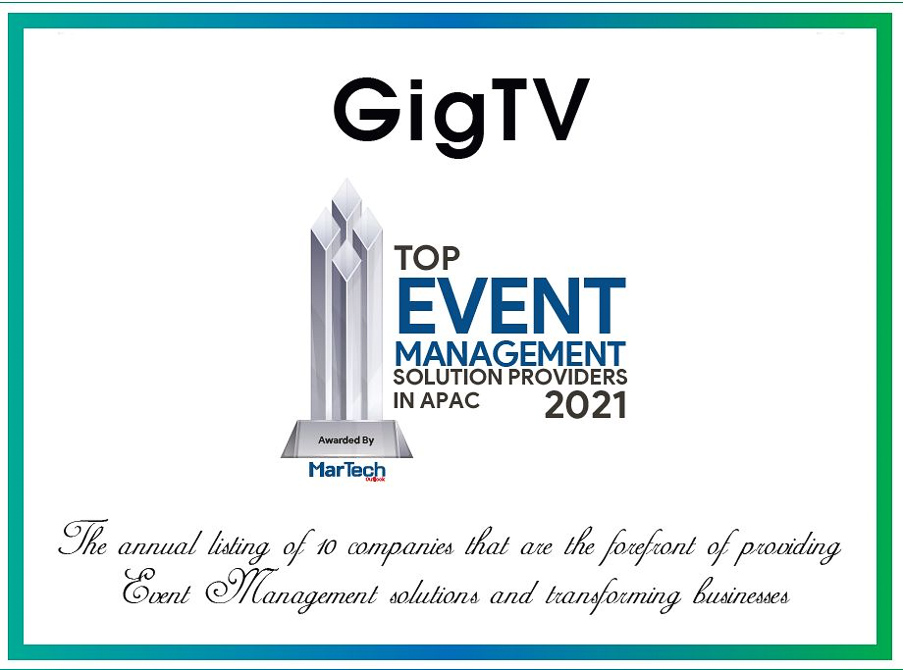 Gamification can be the key to bringing in-person and virtual attendees together (sponsors, too!). What kind of gamification activities do you envision? It can range from answering trivia questions, to completing challenges to downloading a sponsor's content. Does your partner support gamification across a mobile app and virtual platform, so you can encourage in-person and virtual attendees to work together on team-based activities? Make sure the provider also enables you to message and communicate with attendees about the game — attendees won't engage with it unless they are aware.
5. What kind of support will they provide?
A lot of providers offer a CMS (content management system) and a support team to help when needed. But what level of "support" does this actually mean? In the middle of your event, you don't want to end up with a ticket at a help desk.
In our experience, robust support and account management are worth the investment. When thinking about an app, account management might not be top-of-mind. But once you've worked with (or without) it, the value quickly becomes apparent. A good team asks the right questions, listens to your goals, crafts a plan with the features you need, and provides direct access before, during, and after the event.
6. Flexible content delivery
With virtual attendees, content is even more vital than ever. Make sure your partner supports your vision. Can the platform deliver a high-quality live stream to thousands of attendees? Can it deliver pre-recorded content during an event? Content can mean a lot of different things, too. It might mean integrating social media and turning your attendees into content creators. It might mean a sponsor's videos or your own videos, served up to your attendees via a recommendation engine, a la Netflix. Whatever you need, make sure the provider can support it.
Before beginning your search, have a list of your KPIs (key performance indicators) ready. With any software tool or platform, you'll want to make sure you have clear visibility and access into the metrics you need. That could include data such as:
Registrations, sign-ups, and other actions taken before the event
Number of unique users who logged into the virtual platform or downloaded the mobile app
Unique users tracked on a virtual platform and/or mobile app over the entire event lifecycle
Session attendance: Total views for each session, including number of "On-demand" views
Engagement actions: Polls and other actions taken during sessions
Sponsor data, including ad clicks, content views, downloads, and lead capture
8. Do they integrate with your other tools and platforms?
Save yourself some major headaches and make sure your tech partner has a platform that integrates. This could mean registration providers, content management systems, analytics tools, and streaming and A/V platforms, etc. We choose platforms with built-in API integration enabling seamless 3rd party integrations with hundreds of platforms.
9. Do they support your sponsors?
Virtual and hybrid events are a huge opportunity to expand your audience, and attract sponsors. But only if you have a platform that supports a good experience. If you want to impress sponsors, look for a platform that allows them to create a branded presence, schedule appointments, host office hours, provide offers and track every bit of it.
This one is pretty straightforward. Does the provider have strong privacy and security provisions? You're going to be capturing a lot of attendee data, and you want to be absolutely sure it's safe. Make sure your provider takes this seriously. GigTV uses government-level encryption, robust network boundaries, access controls like role-driven access, and other important best practices.
A lot of factors go into your decision, including cost, functionality, and service level. Don't make your decision based on cost alone. You want a partner who will work with you in the trenches to provide high-level of service from start to finish. Selecting the most advanced platform might also seem attractive, but also risky, if you don't understand how best to leverage it. You want someone that understands genuine hospitality and that the right technology helps deliver it. At GigTV, we are a unique hybrid event technology partner that offers innovative hybrid tech solutions. More importantly, we take the time to show our customers how to use our technology to create the best possible event experience.