10 Reasons Why the Event Industry is Choosing Hybrid Events
As the event industry continues to grow, so do your options in event formats. Virtual has had free reign over the last two+ years and it still holds its place in certain industries, but what about hybrid and onsite? It may be overwhelming entering into a real-life venue after several years away, and you'll likely be met with some brand new tech while you're there. Tech industries themselves are choosing hybrid for its versatility and flexibility. But let's take a look at why hybrid events are the best of both virtual and onsite worlds.
1. Sustainability is a Key Advantage of Hybrid Events

One of the clear benefits of hybrid events is they allow you to pursue more sustainable practices. 
The reasons for this are many. For starters, consider that more people staying at home means less travelling and, therefore, fewer emissions used.
Secondly, fewer in-person attendees suggest less catering is needed, meaning further reductions in your carbon footprint.
Of course, hybrid tech events will still require energy consumption. However, there are still plenty of sustainable event initiatives to explore if that's a goal for your brand. 
2. Hybrid Events Can Lead to Higher Return on Investment
Event organisers are realising hybrid events are the future partly because they can lead to an increased ROI.
Because, after all, managing money is key to being a good event organiser. And the costs won't just benefit planners either. It also means reduced costs for your attendees too. They won't need to worry about the cost of transport, accommodation, refreshments, babysitters, etc.
With this in mind, it's important to remember that, with hybrid events, you're essentially hosting two different events – one live, onsite, and the other virtually. Your experiences will vary across platforms and can be costly. Hybrid events, though, can increase your return on investment through increased sponsorship options, increased partner visibility, and higher attendee options.
3. Increased Attendance at Hybrid Events Are the Future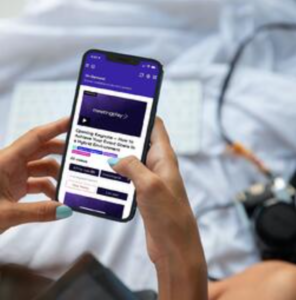 It stands to reason that hybrid events of the future will lead to greater attendance. The reasoning follows that if your event takes place in-person, then only people in a commutable area are likely to attend. However, if there's the option of remote attendance, then anyone in the world can go.
And, of course, more attendees lead to greater brand exposure, dissemination of core messages, increased revenue, and more significant data collection.
4. Higher Engagement With Virtual and In-Person Attendees 
Virtual events boomed due to Covid-19. However, event planners and event technology weren't quite ready for it. Engagement was generally said to be the primary issue.
However, the event industry has rallied. Thanks to brand new hybrid event trends and fresh event platforms, sincere and meaningful engagement is now a reality.
This increased engagement has been primarily found through utilising gamification. Research shows that this technique leads to around 87% of attendees feeling more socially connected.
The tech industry has explicitly been very into it. Take Jive Software's Jive World – a tech-orientated gamification app – where virtual attendees play and collaborate all day in between sessions to win badges and further cool incentives.
What all this means is that there is no longer a figurative and literal barrier between virtual and in-person attendees, thanks to hybrid event technology. The future of hybrid events will see that virtual attendees are finally part of the show, not just the audience.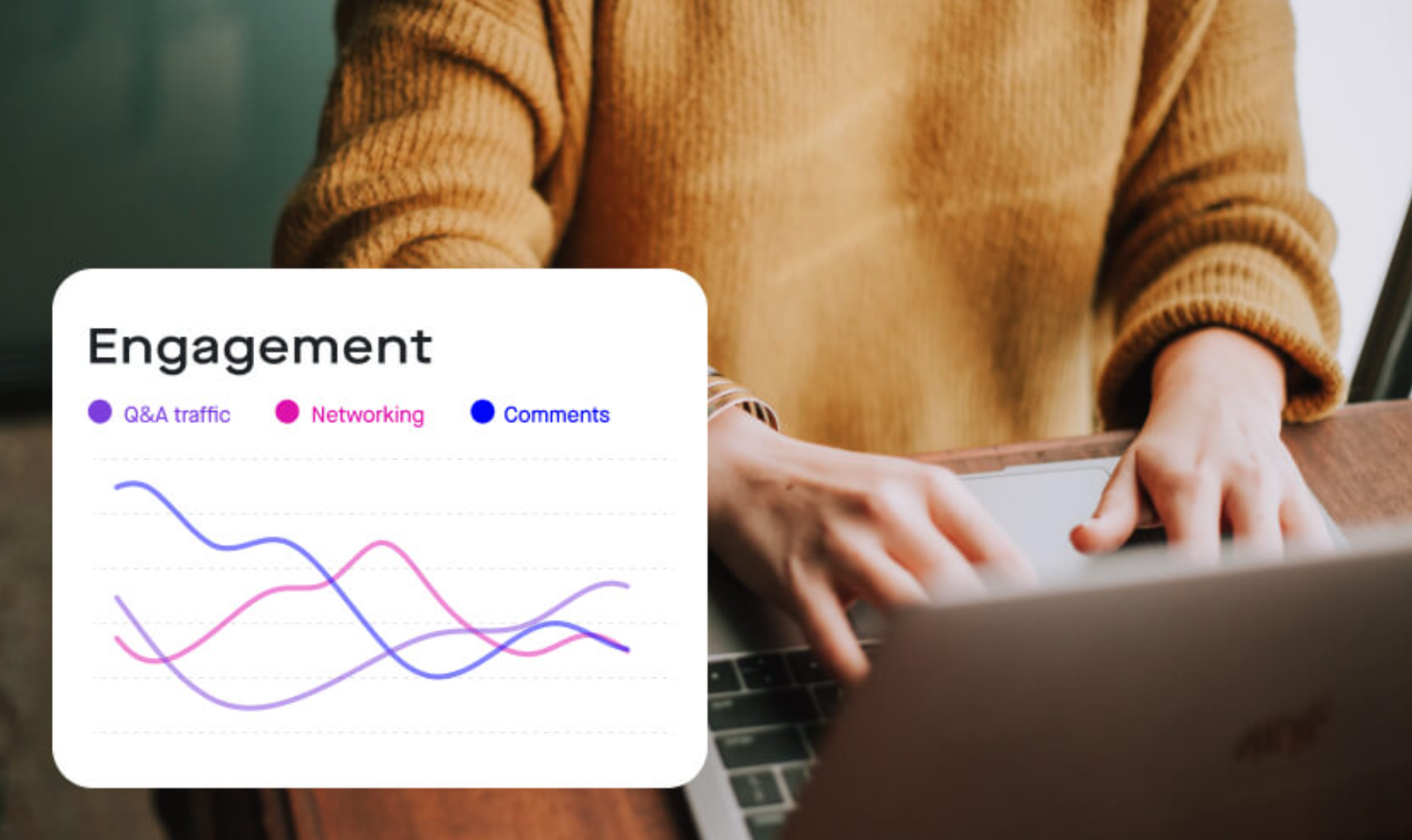 5. Hybrid Event Technology Leads to Networking Opportunities
One of the big complaints from virtual and in-person attendees at hybrid events has been the poor networking opportunities across platforms. However, thanks to improvements in hybrid event technology, networking at future hybrid events will be worth people's time!
Our platforms have been specifically designed to optimize the networking between virtual and in-person attendees. Our hybrid capabilities allow for in-network on-site and virtual attendees connect with audio or text chat using one interface. 
So now you have the hybrid event technology to make it possible, how about the motivation to really get it going? In our case, we love to use these creative ice breakers for conference networking.
6. Micro-Experiences Will Give Hybrid Conferences More Depth
One of the hottest hybrid event trends that will be a huge hit for the tech industry is micro and mini experiences.
One-dimensional events are a thing of the past, and thank goodness. Event planners are now beginning to utilise micro-sessions to give their events more depth and more sincere engagement for their virtual and in-person attendees.
Walmart stores across the U.S. have 17,000 Oculus Go VR headsets equipped with Strivr training. Associates will be able to access training on-demand, with fewer needing to travel to academies. More than 1.4 million of their associates will benefit from their VR training programs this year.
The results have been awe-inspiring. Employees that underwent VR training reported 30% higher employee satisfaction, scored higher on tests 70% of the time, and logged a 10 to 15% higher rate of knowledge retention than before VR.
So whether it's a hands-on workshop session, a networking experience, or just some fun games, offering a breakaway event away from the main hybrid conference will keep your guests busy and keep them entertained.
7. Unique Exhibitor Opportunities at Hybrid Conferences
Hybrid events are the future because they offer depth, particularly in the virtual realm. This is perhaps most clearly in the case of exhibitor opportunities.
Exhibitor profiles are great for our friends in the tech industry as they invite their attendees to become active participants, attendees who explore instead of watch. In short, they're the event planners' key to deep immersion.
Our exhibitor profiles are designed to be totally customizable and perfect for collaborating. So whether it's for networking, fun games, or empowering your sponsors, the floor is yours!

8. Sponsorship Advantages of Hybrid Events 
In times gone by, an event sponsor would be happy with their logo plastered somewhere in amongst the stage design. But today's benefactors want more. They want engagement; they want to be a part of the event itself, not just the people who hand over checks.
This is one of the benefits of hybrid events. They offer a depth of opportunities to sponsors to engage with your audience. Hybrid events can also offer exclusive branded swag, like NFTs, for example. This can be part of their gamification techniques in the form of a competition, or it can be a freebie to lure in hesitant attendees. We're already seeing this take place with giveaways with big names like DC doing a superhero NFT giveaway for every attendee registration.
Our hybrid event platforms are specifically designed to give your sponsors high-quality leads.
9. Marketing and PR Benefits of Hybrid Events
 One of the emerging advantages of hybrid events is that they are becoming effective forms of marketing and PR campaigns.
Firstly, they yield fantastic data for analyzing your event, resulting in a greater understanding of your audience than ever before. Because, as we mentioned, the increased attendance makes for a bigger pool of data to sink your teeth into.
And then consider the kind of data you'll have at your command. With our hybrid event technology, you'll automatically have data collected and analysed!
Secondly, you can use your hybrid event to create new content you can use to promote your brand. 
And finally, hosting a prestigious and impressive hybrid conference in and of itself is a valuable branding exercise. It gets your name out there, and by association, people will recognize your company as a tech-savvy group looking to the future.
10. Flexibility for Planners and Virtual and In-Person Attendees
Now, our final point on why hybrid events are the future: they're flexible. They're flexible for attendees as they give them an option, and moreover, they add security if you suddenly can't make it.
They're empowering for event planners too as they protect your hard work from unpredicted outbreaks, last-minute venue disruptions, guest speaker cancellations, and so on.
Wrapping up
So there you have it, why hybrid events are the future. A place where you can experience the best of both worlds. 
If you need help producing your next hybrid event, make sure you book a meeting with one of our event pro's.