on the corner of Juliette St & Ipswich Rd, Brisbane
Accessible, simple, and personable.
For all things video production, visit our content studio in Annerley, Brisbane. Within an 8 min drive from the CBD… you'll be at home in our fully equipped multi camera green screen studio on the corner of Juliette St & Ipswich Rd in Annerley, Brisbane.
Designed for rapid creation and distribution of content based in Brisbane.  Walk in – record videos and podcasts, deliver live streams, webinars, web meetings – just get it out there! By the time you get back to your desk, you'll have content in your inbox. Book by the hour, half day or full day. We manage Virtual events, Hybrid events, Presentation recordings, Podcast recordings, Webcast series, Interviews and more! We have full service options available or dry hire as required. We also provide full accessibility support including live captioning, transcripts, closed captions and text to speech screen readers.
You'll find us at 2 Juliette St, Annerley 4103 QLD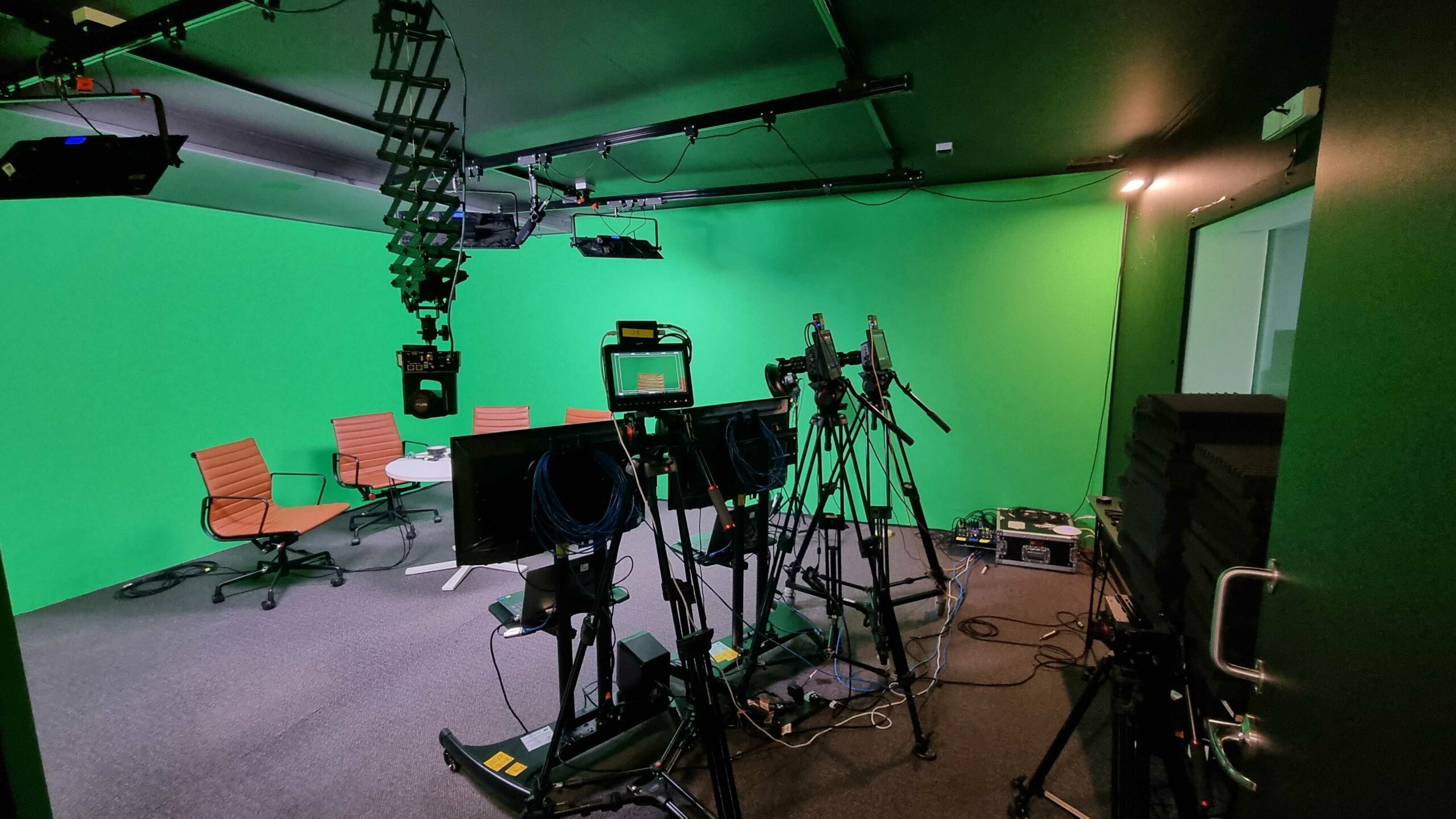 Equipment:
We offer a range of complimentary studio equipment that will guarantee you a professional production.
Room:
Lighting:
Fill/Back: Bi-Colour LightPro Ultrasoft Continuous LED Panel
Key:
Cameras:
3x Blackmagic Design Studio Camera 4K with Manfrotto tripods
3x Olympus M.Zuiko ED 12-40mm f/2.8 PRO Lens
Comms:
2x 40: Monitors (foldback)
Foldback speakers
Vision Switching:
vMix main production switching
Blackmagic Design ATEM Television Studio Pro 4K
Blackmagic Design ATEM Production Studio 4K
Computers/IT:
Wired & wireless internet (250Mb down / up)
4x Laptops (with dual video outputs)
Wired networking throughout the studio
NDI & Dante enabled
Recording:
Blackmagic Design HyperDeck Studio 12G (RAW)
MP4 Recorder (Compressed)
Audio:
4x Rode Lavalier Lapel Microphone (wired)
3x Shure SM7B
Allen & Heath QU-16 Digital Mixer
Allen & Heath audio desk
Streaming:
Mediasite

Youtube, Facebook, Vimeo, Streamyard and Custom RTMP
Conferencing:
Zoom, Teams, WebEx, GoToMeeting, Bluejeans and Google Meet

Virtual events, Hybrid events, Presentation recordings, Podcast recordings, Webcast series and Interviews
Gallery:
Take a look inside our Brisbane studio…
2 Juliette St,
Annerley QLD 4103
Furniture:
At the GigTV Studio, we have a range of complimentary furniture with studio hire. This also includes a couch, a bench and 4 stools. Additional furniture can be arranged on request.
Parking:
There's four free car parks available right outside the building and then overflow parking available next door. 
Facilities:
There is complimentary refreshments in the studio such as a coffee machine, tea, and water. There are plenty of cafes nearby with the closest cafe being at Vend on Ipswich Rd
Schedule:
Please Remember: It is very important to arrive on time. This ensures that your event runs smoothly by allowing sufficient time to set up your equipment and space.
Dress Code:
To make sure you do not distract viewers from the amazing content you will produce, we ask that you do not wear any shade of green. Please don't wear anything with a "noisy" pattern… such as tight stripes or a crosshatch, avoid loud accessories and anything revealing if sitting down.
Covid-19 Strategy:
The GigTV Studio adheres to the guidelines in place under the QLD Government.
Upon arrival please scan the QR code and sign yourself in before entering the studio.
To Note:
All studio equipment is disinfected before and after use
The studio can be accessed by clients with social distancing measures in place by our team
Common areas in the studio are regularly disinfected (e.g door handles and surfaces)
Bathrooms are cleaned daily
All government Coronavirus resources, and information has been read and understood by employees.
To keep up to date with the latest information for businesses, please visit:
https://www.covid19.qld.gov.au/government-actions/covid-safe-businesses 
For more info and a no-obligation tour, contact us.
*We also have studios available in Sydney, Melbourne & Auckland.